Don't miss out on these amazing spa deals and discounts. Our friendly team of spa experts are available nationwide to help you get into a Hot Spring Spa. Experience why so many Kiwis have been choosing Hot Spring for the last 40 years.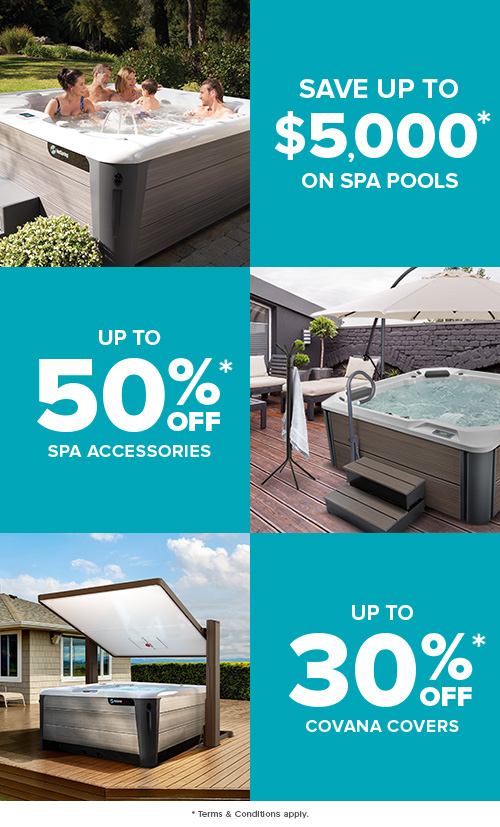 Spas Available Now
A spa pool is an important investment for you, your home and family's well-being. To help buy with confidence, speak with one of our Hot Spring Spa experts to find the perfect spa that's right for you.
Request a call back by completing the form below.

No more struggling with opening your spa pool cover or removing debris and snow. One of the highest insulation covers on the New Zealand market, the Covana secures and covers your spa pool while offering maximum comfort, safety and energy efficiency. Various sizes available to suit all spa models and sizes.


Get that holiday feel in your own backyard every day with our wide range of Hot Spring Spa accessories. Take your spa pool relaxation a step further with these seamlessly integrated spa additions.

* Home Show Terms and Conditions:
The offer "Home Show Specials" is only available at participating Hot Spring New Zealand dealers. Pricing is based on Hot Spring Spas New Zealand recommended retail price. Offer save up to $5,000 only applies to selected spa models within Hot Spring Spas range. Up to 50% off applies to selected spa accessories and save up to 30% off on selected Covana Spa covers. Offers excludes Endless Pools Swim Spa ranges. This offer cannot be used in conjunction with any other offer. Spa models, stock and colours may vary between dealerships. Delivery conditions may apply.